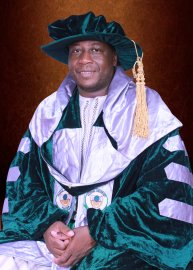 Prof. Mustapha Alhaji Muhamman
Head of Department
The Department offers B. Agriculture (Agronomy) Degree, which is a 5- year programme. All students take common courses at the 100 level with the students of Faculty of Science. The 200 and 300 level courses are common to the students of the Faculty after which they proceed on SIWES at 400 level. At 500 level; they are assigned to supervisors for practical project.
In line with the philosophy of Federal University Kashere (FUK), the B. Agriculture degree programme produces graduates that are adequately equipped with the comprehensive theoretical knowledge and practical skills required for engaging in productive and economic agricultural production for the nation and global community.
Mission & Vision of the Department:
Our mission is to produce technically competent graduate with global best practice in food security, self reliance in Agriculture and job providers rather than job seekers in today's diverse and challenging economy.
Our vision is to pursue with vigor, self sufficiency in agriculture, with excellence in Teaching, Research and service to Humanity.
The objectives of the program are to produce graduates that are:
Geared towards self employment;
Sufficient technically, productive with entrepreneurship skills who will be involved in production, research and entrepreneurship in any aspect of agriculture and other related disciplines;
Relevant to themselves, the industry and society and who can contribute effectively to national and international development goals in Agriculture;
Creative and have an understanding of an integrated systems approach to agriculture and related environmental issues.
Faculty of Agriculture Departments