School of Preliminary and General Studies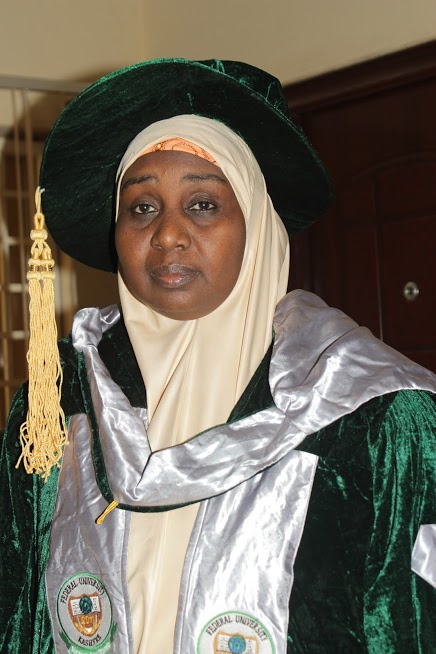 Dr. (Mrs). Aishatu H Santuraki
Director
HISTORY OF THE DIRECTORATE
The Federal ministry of education granted permission to tertiary institutions located in the educationally less developed states to establish remedial programmes via a circular ref. FMEPS/213/C1/1/190 dated 9th March, 2000. Gombe state being among the educationally less developed states are therefore, qualified for universities in the state to run remedial programme. In accordance with the circular, the Management of Federal University, Kashere during its meeting held on 3rd April, 2014 considered and approved the establishment of a self-funding School of Preliminary and General Studies as contained in Volume I of the University's academic brief. The academic brief state clearly that the school of remedial and general studies will be establish in collaboration with Gombe state government.
The school is established to serve the interest of Gombe state indigenes and the neighboring states. In addition, the Gombe state government will benefit through the training and retraining of its public officers which was hitherto the responsibility of former College of Administrative and Business Studies, Kumo.
The School will provide an opportunity for secondary school leavers who did not obtained the required entry qualification into the university, to remedy their deficiencies and get absorbed into the undergraduate programmes of the University.
The School of General and Preliminary Studies was established in 2015, Professor. A.U. Gurama was appointed as the Pioneer Director of the School. Eleven administrative staff was posted from the Registry Department of the Federal University Kashere to assist the Director for the take-off of the School.
The philosophy of the School of General and Preliminary Studies is to be an outfit that will champion the course of training of students in various fields and to create room for those with ordinary level deficiencies to remedy them so that they can possess the entry requirements needed for degree programmes of the University.
The School is established to:
⦁ Train students in different fields.
⦁ Help secondary school leavers with O'level deficiencies to remedy them for admission into the various degree programme of the University.
Prepare candidates who attempted and failed their O'levels to sit for WAEC, NECO, NABTEB, etc.
⦁ To Serve as an alternative mode of gaining Direct Entry (200 level) admission by IIJMB candidates at the University or any of the Nigerian University within the country.
The School of Preliminary and General Studies was established among other things to:
⦁ Provide services to indigenes of Gombe and the neighboring states to remedy their 'O' Level deficiencies for placement into the undergraduate programmes.
⦁ Provide courses for in-service training for members of the public service in Gombe state and beyond for effective service delivery.
⦁ Organize conferences, seminars and other study group in line with the requirement of learning and to perform such other functions that may promote advancement of knowledge.
⦁ Provide consultancy services based on the need of the community that will promote development.
⦁ Provide, through teaching and research the advancement of knowledge and its practical application to the needs of the community.
⦁ Provide facilities and enabling environment for the purpose of carrying out the above functions as resources permit.
⦁ To run Interim Joint Matriculation Board (IJMB) Programme
| S/No | NAME | RANK | AREA OF SPECIALIZATION |
| --- | --- | --- | --- |
| 1 | Dr. Aishatu H. Santuraki | Director | Analytical Chemistry |
| 2 | Dr. Dauda Muhammed | Deputy Director | ICT |
| 3 | Dr. Peter Dogo | Examination Officer | Mathematics Education |
List of Administrative Staff
| S/N | NAME | RANK | QUALIFICATION |
| --- | --- | --- | --- |
| 1 | Abubakar Bayu | Admin Secretary | B.Sc. Business Admin |
| 2 | Ibrahim Umar | Asst. Registrar | B.Sc.Ed. Enironmental Education |
| 3 | Habiba Adamu | Principal Confidential secretary | Con. Sec II |
| 4 | Rabi Muhammed Aliyu | Admin Officer | B.Ed. Adult Education |
| 5 | Habiba Sale Kilawa | Admin Assistance | B.Tech. Business Education |
| 6 | Basir Shehu Abba | Higher Executive officer | B.Ed. Adult Education |
| 7 | Abubakar Muhammed N | Higher Executive Officer | HND Business Admin |
| 8 | Serah T. John | Principal executive officer ( Account) | HND Accounting |
| 9 | Ahmed Dalhatu | Accountant II | B.Sc. Accounting |
| 10 | Ibrahim Umar | Internal Auditor | B.Sc. Accounting |
| 11 | Ahdamu Musa Yayanjo | Senior Clerical Officer | SSCE |
| 12 | Habibu Mohammed | Assit. Computer operator | Ordinary Diploma (OTM) |
| | | | |